Scans are from 2001 vol. 3, #37-#40 titled Remote Control (hopefully got that right). Those who follow my tumblr account will have seen the first three ages ago, but the rest are new. Not mine though, I just clipped and made stupid commentary.
Preview: Lookit it's bby Tony and Ty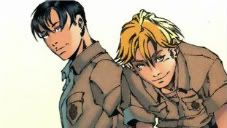 So, Tony is testing his new teleporting device... on himself in a forest, as you do, when he gets a call from Pepper that his old school friend Tiberius Stone has turned up, bought up a bunch of media companies, and has invited Tony to a party.
Cue a walk down memory lane:
Tony's inner monologue: "Well, some things newer change, I guess. Here we are again, Ty and me, #1 and #2, just like old times"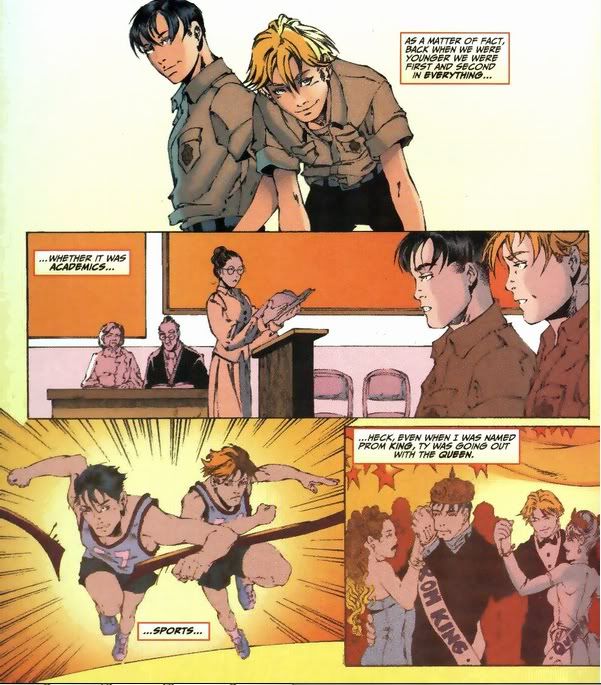 Aww, precious boyish UST. Tony's call from Pepper is interrupted by him being attacked by some mysterious robots, a day like any other.
Meanwhile, Pepper and Happy have gotten back together, and are talking about how they need to concentrate on their marriage. While Tony is a dear friend, working for him tends to make things like that... difficult (see: robot/other villain attacks and other drama). Pepper is worried how Tony will take that, to which Happy:
"Are you kiddin' me? He just made #2 on the Fortune 500 list! You think he's gonna miss a couple of pugs like us? Naaw, now's the perfect time."
Oh Happy. 1. WRONG 2. Way to jinx it. :'3
So, Tony fights robots, Tony goes to Ty's party, we get more proof Howard Stark was a supervillain... or just that Sebastian Shaw is a creepster, idk.
Shaw: "Creepity creep."
Tony: "Ew go away D:"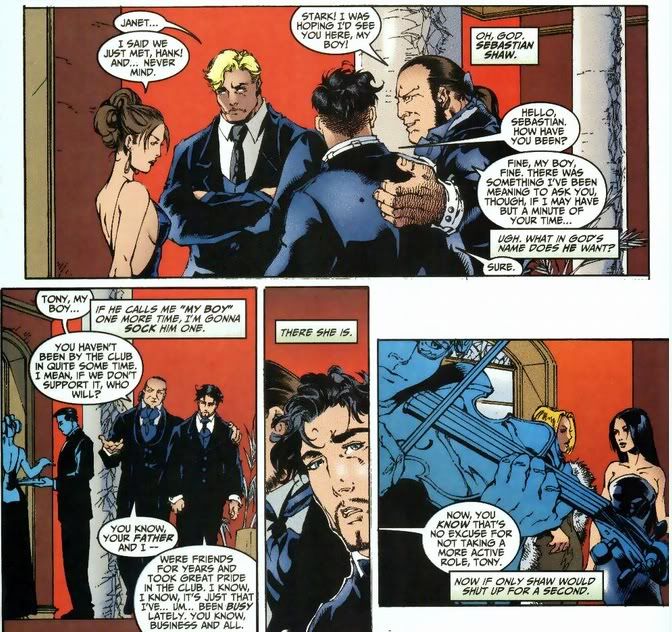 And he's not the only supervillain at the party either, and Rumiko is talking to another.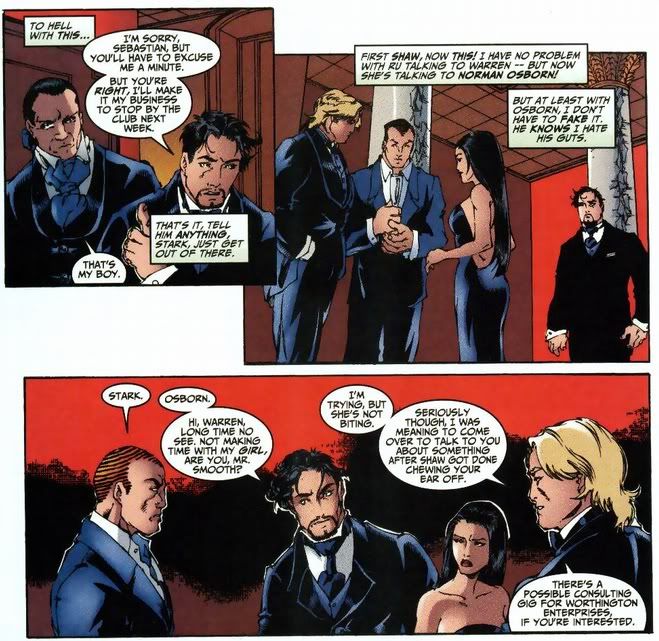 Rumiko and Tony are having problems because being Iron Man kept him from visiting her in the hospital and she doesn't know that, etc. So she's not overly pleased with his "grrr" act either. So she breaks up with him and walks away... but right after, Tiberius Stone appears!
So, Tony calls him Ceasar and he calls Tony Mark Antony, and then asks his advice/consultation on purchasing this company owned by Trevor Donahue, who Tony knows to be of dubious character. Tony snaps up the chance to investigate Donahue, in the guise of negoating a deal between him and Ty.
Ty introduces his Inception... I mean Dreamvision machine, which is some sort of dream virtual reality thing. Where you can
be
in your favourite tv-programs! Whee.
Very tanned!Tony is impressed.
Alas, as he goes to make up with Rumiko, he finds her in bed with Ty. *le gasp!*
Ty claims he had no idea Rumiko and Tony were together, while Rumiko says they're
not
together after she said so at the party so Tony can't complain. Fair enough. However.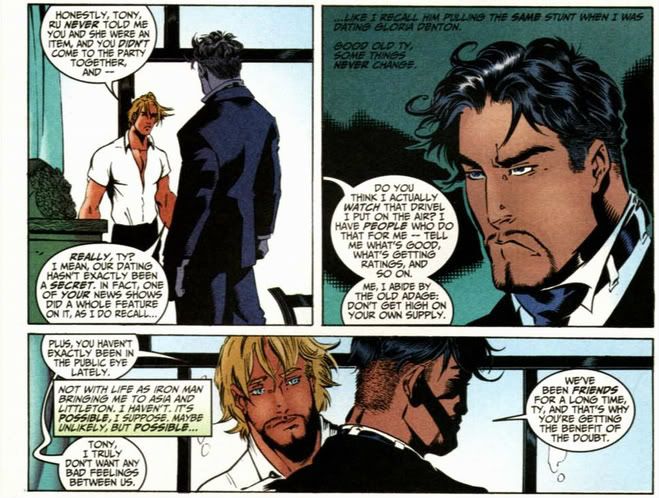 Benefit of the doubt, seriously? Well then.
Yup, definitely looking sorry there.
Moving on, Tony goes to meet Donahue, finds that he has some armours on display that look exactly like the ones that attacked him earlier, blah blah.
Afterwards, Ty's news stations start running a big story about Iron Man killing Mark Scarliotti alias. Whiplash, which considering the Sentient Armour did, is uncomfortably close to the truth. Also Pepper mentions Ty tried to hit on her at some point in the past... ick.
Oh, and did I mention Whiplash was allegedly working for Donahue when he died? And Tony was conveniently filmed exiting Donahues's place... by people basically working for Ty.
Tony thinks Ty might have set him up, so he calls him, and Ty feeds him a bunch of BS about it being NEWS and how he can't not proadcast just because they're friends etc. and how he got the info from security cameras idek.
Tony: "YOU SET ME UP/ARE TRYING TO KILL ME WHY >:U"
Ty: "No I didn't o3o"
Tony: "Oh. Ok, sorry :'3"
Oh Tony...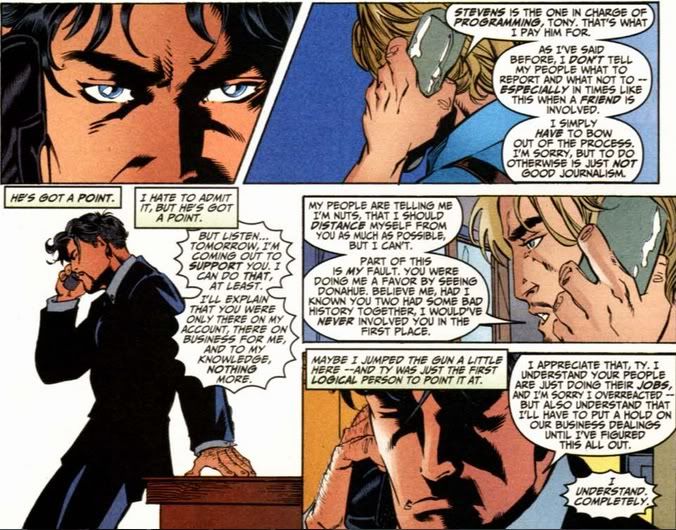 The following campaign dredges up everything unpleasant from Tony's past once more, and there's nothing he can do about it. Also, his consulting firm (since he has lost the company at this point) is losing work due to the scandal. He almost has a drink, it gets that bad.
Anyway, at that point Ty is supposedly taken hostage by Radioactive Man, and Iron Man flies to the rescue. Tony fights R.M. he explodes, some people get killed... oh, and then Steve defends him on tv.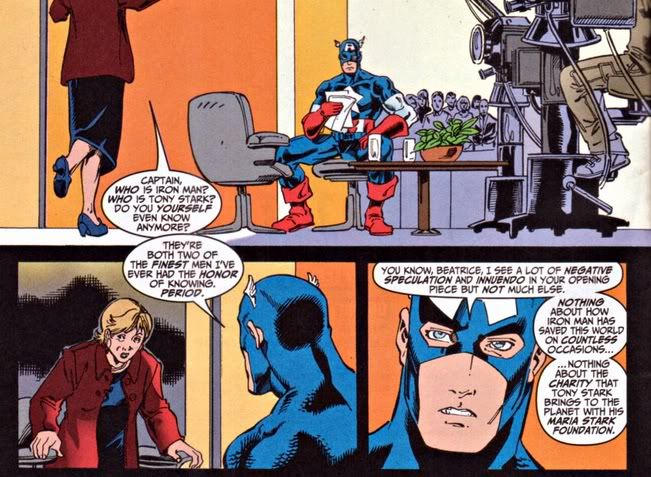 Aw.
Tony goes to meet Donahue, who claims Ty has set them up against each other. Donahue was a friend of Ty's dad, whose company couldn't compete with Howard Stark's and was failing. Donahue thinks that Tiberius' father committed suicide due to this, and that's why Ty hates Tony. Donahue is telling all this to Tony because he is dying himself, of something he suspects Tiberius gave him.
Before going to hash things out with Ty, Tony tells Happy and Pepper that he's releasing their contracts so they don't become more involved in the mess he's in.
<3
Tony confronts Ty, and gets an explanation:
Of sorts. Even? I thought his dad's company was near bankcruptcy?!
Ty sticks Tony into Dreamvision (after stripping both of them for... some reason), and takes him through a bunch of scenarios pulled from movies or Tony's history. Some of the more... interesting ones (warning, if Dumbo is an essential part of your childhood, might not want to see the pink elephant thing, it's kind of... wrong. Or I've seen too much tentacle porn.):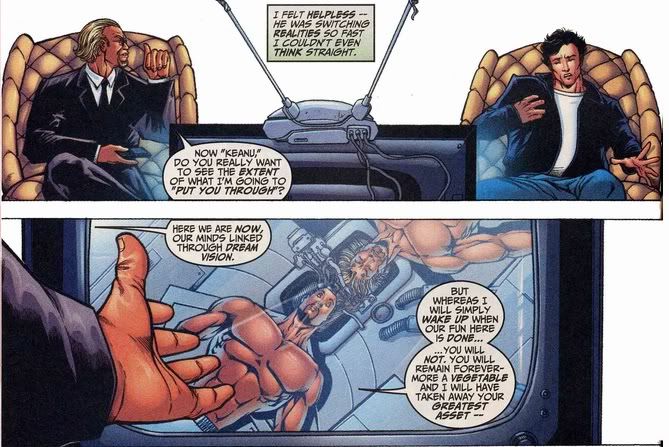 I did warn you
The final one taking them to a gladiator arena. Hmm, v. heterosexual, and so are the poses in the second panel, especially metaphorically...
Luckily, Tony uses WILLPOWER and it is super effective, so he gets out of Dreamvision.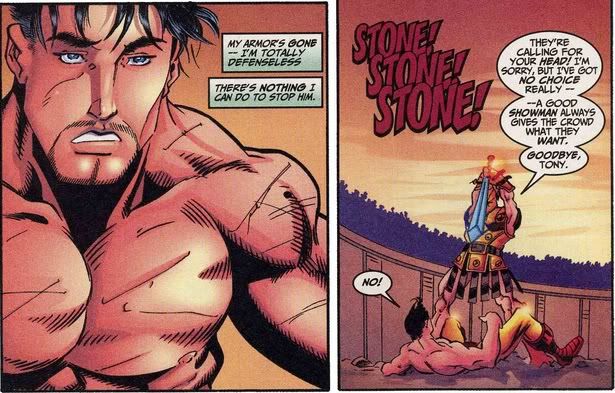 Ty is a bit fried in the process, which lands him in a wheelchair. Alas he still owns a bunch of media companies, so.
So he gets away scot free, has public opinion on his side, and gets Rumiko, even.
He also left some sort of
inception
suggestions in Tony's head that had him do a Clark Kent thing where he assumed the name Hogan Potts (pffft) and worked as tech support in some random company. IDK, the art gets so horrid after this arc it's hard to even concentrate on what is happening due to bleeding from the eyes.
Also, I think Ty came back at some point, but haven't come across that arc yet, if he does.
Anyone who stuck this far, cheers. :'D
Being a summary of the (as far as I know) first arc he appeared in.